Product Details
"Wow! The sound, feel, and look of this Kalimba
everyone in my family loves it. The sound andvibration is so soothing. 1 will probably buyanother one at some point. You know, if 1 don'tget mine back from a familly member.
★★★★★- Kelly C.▽VERIFIED BUYER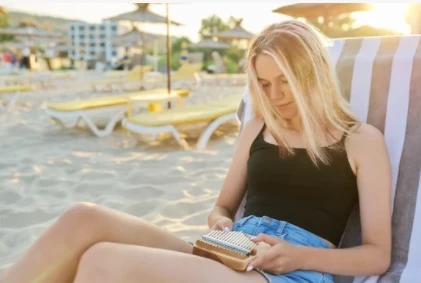 INSTANTLY PLAY AND SOUNDGOOD IN JUST 5 MINUTES
Hearing the sounds of the Kalimba isamazing, even playing the wrong notessounds absolutely beautiful!
The first thought that will come to your mindwhen you first strike the tines on your
Kalimba will be "Wow, it's so amazing and
Why? The sounds of the kalimba are notonly wonderful but it is also mesmerizingand even if you cannot play any music, juststriking random notes will make beautiful
music itself!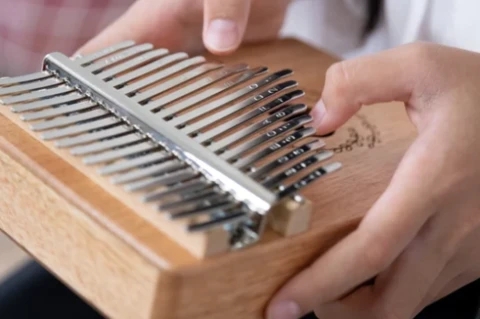 V AN INSTRUMENT ANYONE CAN PLAY: You willbe pleasantly surprised at how easy it is to playthe Kalimba. In just minutes, you can learn toplay a new song.
You will love the feeling of success when youimpress your family and friends by playing thisincredible instrument.
V INTRODUCE YOURSELF TO SOMETHING
NEW: The Kalimba is great for someone Ilookingto try something new. You will be mesmerizedby its melodious sounds and be instantly
addicted to playing it as well.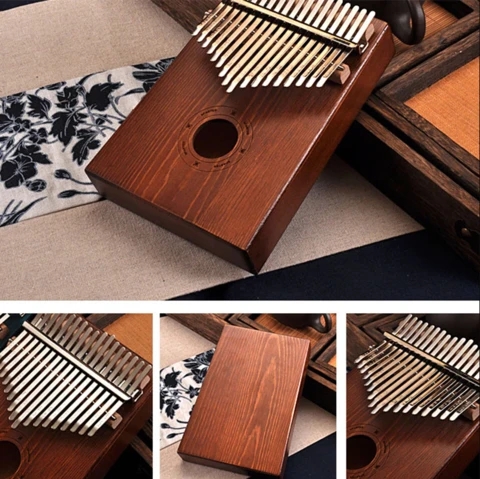 ■A GREAT HOBBY AND RELAXING
DISTRACTION: This instrument is also a greattension tamer. It's perfect for people who arestressed. Playing it is meditative and peaceful,you can simply just zone out and pluck awaywith your thumbs!
▽BRING IT ANYWHERE WITH YOU: It's the perfect
Kalimba anywhere with you for that road trip,beach outing, picnic, or camping, it's simply theperfect travel companion!
7 PERFECT GIFT: Having trouble with ideas forgifts? Th
Shipping
We ship to 127 countries, including the US, CA, AU and all countries in Europe. We offer free shipping for orders over $39.99. Orders do not ship on Saturdays or Sundays.
Return
If you've ordered the wrong size or have any other issue, you can always exchange or return your order. so long as Your items are unworn, undamaged, in re-sellable condition (i.e. no creases or wear on soles), and in their original packaging. Your return request is submitted within 30 days of receiving your original order.