Product Details


A cane that makes you perfectly balanced, safe, secure, and more comfortable when you walk.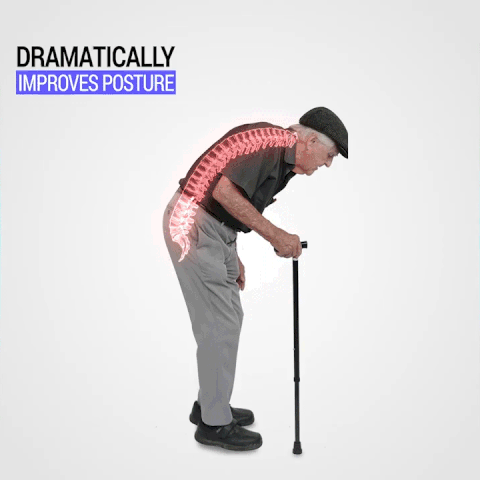 Introducing Posture Corrector Cane, our PRODUCT that ALLOWS you to WALK more UPRIGHT, CHANGING your LINE OF SIGHT so you look forward instead of down. It guarantees that you'll be more BALANCED, SAFE and COMFORTABLE when you walk. 
Posture Corrector Cane has a REVOLUTIONARY HANDLE that takes the PRESSURE OFF your SHOULDER and WRIST giving your body a LIFT and placing you in a NATURAL upright position. The handle is UNIQUELY DESIGNED with an ERGONOMIC GRIP. It ELIMINATES downward pressure associated with traditional canes. 
It helps user to STAND CORRECTLY and IMPROVES user's MOBILITY. It is BIO-MECHANICALLY ENGINEERED to SUPPORT the STRENGTH of the body as it allows to stand INDEPENDENTLY next to USER'S SIDE.
Posture Corrector Cane is made of HIGH-QUALITY ALUMINUM construction making it STURDY. It has a DURABLE 360° SELF-STANDING stability tip. The HEIGHT has 10 DIFFERENT ADJUSTMENTS for a perfect custom fit. It has a SIX-POINT FOOTPRINT that PROVIDES a better contact to the ground for STABILITY on BOTH flat and uneven surfaces.
Posture Corrector Cane is SAFE and VERSATILE. It is LIGHTWEIGHT, FOLDABLE and PORTABLE. It is PERFECT for long walks, sidewalks, and domestic routine jobs.
FEATURES & BENEFITS:
You'll be more perfectly balanced, safe, secure, and more comfortable when you walk
Helps you easily get up and out of chairs
Revolutionary handle causes you to walk upright & change your line of sight so you look forward instead of down. 
Supports the strength of your body to dramatically improve your posture, help you move easier, & feel less pain*! 
Revolutionary handle takes the pressure off your shoulder and wrist
Standup stability tip with 360° traction
10 different height adjustments to customize the fit
Lightweight and sturdy, making it easy to carry with you
Over 8,000  Followers From The Medical Field

SIZE:
Shipping
We ship to 127 countries, including the US, CA, AU and all countries in Europe. We offer free shipping for orders over $39.99. Orders do not ship on Saturdays or Sundays.
Return
If you've ordered the wrong size or have any other issue, you can always exchange or return your order. so long as Your items are unworn, undamaged, in re-sellable condition (i.e. no creases or wear on soles), and in their original packaging. Your return request is submitted within 30 days of receiving your original order.